June 9, 2015 by: Keith Hill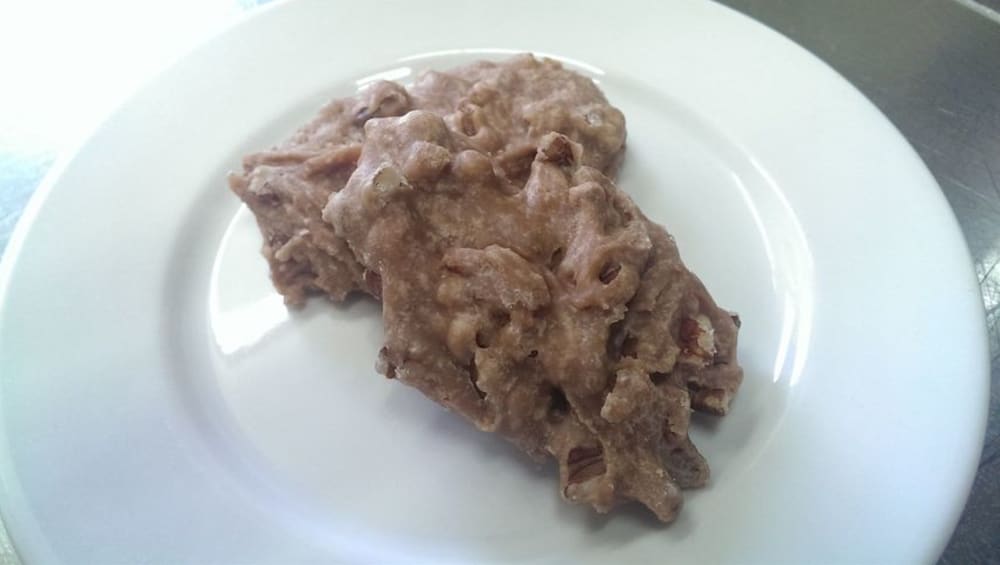 Chef Lurie's Chocolate Pralines
It's hard to find one definitive history of the pecan praline in the southern United States. Although the stories surrounding the creation differ, it is widely agreed that pralines are named after a French diplomat from the early 17th century whose name and title was César, duc de Choiseul, comte du Plessis-Praslin. The actual creator of the praline is believed to be his personal chef, Clement Lassagne, but there are many versions of the story.

The most colorful account paints du Plessis-Praslin as a notorious ladies man, who asked his chef to come up with an irresistible treat he could present to the women he would court. He would put the sweet sugary nuts into little parcels marked with his name, so people began to call the sweets after him. The original praline was roughly a sweet confection made of almonds and a sugary caramelized coating. When it came to New Orleans, the candy found itself improved by the addition of butter, cream and pecans.

It is believed that the praline was brought to a convent in New Orleans by the Ursuline nuns in 1727. Charged with educating the young brides of French Colonists, the nuns taught young girls the candy making skills necessary to keep their husbands happy. The recipe was taught to the bride's cooks and would eventually become a unique entrepreneurial opportunity for women, a rare prospect during that time period. Women known as Pralinières, would sell the candy as a source of income and, more importantly, as a means of providing for oneself without any strings attached.

I touch on these historical facts in an effort to explain why the praline is a confection close to my heart. My home in New Orleans is on Ursulines Avenue, approximately 10 blocks from the convent where the candy landed some 280 years ago. I smile every time I try to figure out how a French Count's date night sweet wound up in a convent cookbook. I love that the entrepreneurial spirit of the Pralinieres is still alive today. Women still walk through the Quarter singing their menu and selling candy door to door; some days I'm lucky and they make it to my street. For all these reasons I feel particularly close to home when cooking up a batch of pralines, which is why you will always find them wherever I'm working.

In the event that you can't wait to get to Mayville or New Orleans in time to satisfy your praline craving, please use the following recipe to treat yourself to a sweet piece of history (literally!)
Lurie

CHOCOLATE PRALINES
2 Cups sugar
1 Cup brown sugar
1/2 Cup heavy cream
1/4 Cup butter
1/4 Tsp. salt
1 Tbsp. vanilla
½ Cup milk or dark chocolate
3 Cup pecans, chopped
In a large sauce pan add cream, butter, salt and sugars (in that order). Heat on high, stirring continuously until mixture reaches 230 degrees. Add chocolate and vanilla and continue cooking until mixture reaches 238 degrees. (should take approx. 12 mins total)
Remove from heat, add pecans and continue to stir off heat until mixture starts to thicken slightly. Drop by tablespoonful onto parchment-lined baking sheet. The mixture will harden as the pralines cool. Store airtight, do not refrigerate.
Tips/Tricks: Have all ingredients and supplies ready before starting this recipe, as the mixture is temperature sensitive and you want to be ready to spoon it out quickly. Salt and Vanilla intensify the flavor of the chocolate and caramel. You won't taste either ingredient directly, but their role is to provide the completed dish a more complex flavor. (also a great trick for cocoa and cookies)