July 8, 2015 by: Keith Hill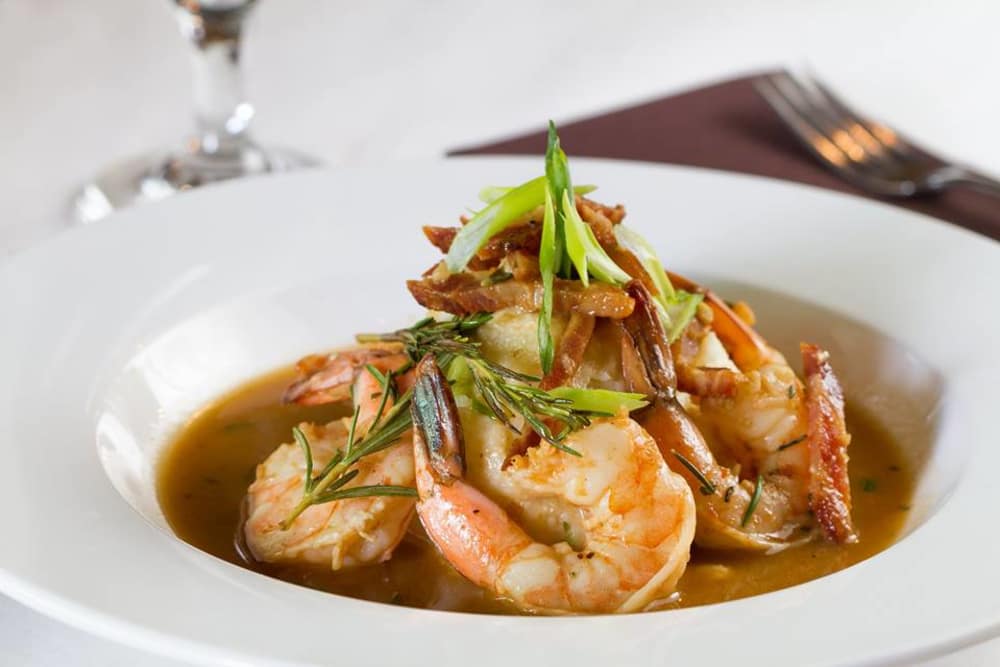 NOLA North Grille Shrimp & Grits with Andouille Gravy
SHRIMP
2 Lbs. Gulf shrimp (jumbo or 21/25 count)
2 Tbsp. Chef Paul Prudhomme's "Seafood Magic" seasoning
2 Tbsp. Butter
1 Tsp. chopped garlic
Lemon wedge
Heat a large sauté pan and add garlic, butter & lemon wedge. Dust peeled & deveined shrimp liberally with Seafood Magic (or your favorite Creole seasoning) and sauté on high heat until barely cooked through (approximately 2 minutes). Remove with a slotted spoon and set aside.
ANDOUILLE GRAVY
1 lb diced andouille sausage
½ Cup diced bell pepper
½ Cup sliced green onion
1½ Cup light stock (shrimp, chicken, or vegetable)
¼ Cup butter
¼ Cup flour
2 Tbsp. Chef Paul Prudhomme's "Seafood Magic" seasoning
Add butter, sausage, pepper, green onion to the same sauté pan used for shrimp. Cook on med-hi heat until the sausage is rendered and the vegetables are cooked but firm (approximately 8 minutes). Stir in flour and then add stock slowly, while continuing to stir. Finish over med-hi heat until stock is thickened to gravy consistency. Add Creole spice and taste for salt/pepper adjustment. Add shrimp back to the gravy and gently warm to combine flavors. Serve the shrimp and gravy over your favorite grits. We like Bob's Red Mill Stone Ground or Palmetto Farms grits. This recipe would also work over polenta, pasta or rice.
Tricks/Tips: Cooking the flour in the butter/sausage mixture ensures lump free gravy. The shrimp are sautéed separately so that we may control the doneness and impart flavor before adding them to the gravy. Building two separate dishes with the same flavor profiles results in a richer depth of flavor when they are combined.